where safety comes first.
Chimney Stack Scaffolding
Safe Access Scaffolding provide professional chimney Stack scaffold solutions across the UK.
National Hire Desk
0333 1234 500
PROFESSIONAL CHIMNEY STACK SCAFFOLD HIRE Safe Access Scaffolding provide various scaffolding systems for all types of roofing projects. FAST, FRIENDLY & EFFICIENT Call Safe Access Scaffolding for your Free Quote for Local Scaffold Hire. QUALIFIED & INSURED SERVICE Insured against Public Liability up to £10 Million Pounds, Feel Safe with Safe Access Scaffolding.
Safe Access Scaffolding are expert at building scaffold structures that allow workers to access places that are awkward or tricky to reach. Chimney scaffolding is a very good example of a solution we provide that meets the challenge of working at such a height and we have the knowledge to offer the right designs on each chimney repair project.
The sale of this type of service demands high quality throughout. Experience has taught us that chimney stacks are positioned in so many different types of places on properties. In response, we have devised a flexible range of frameworks that will suit buildings and roofs of all sizes.
For example, to reach a simple front elevation chimney that is set in the middle of the roof between the gutter and the ridge, we'll construct a scaffold tower. This will involve assembling from the ground up to the level of the gutter with lift heights of 2 to 2.3 metres (6 feet 6 inches to 7 feet 6 inches). We then position the top access level of the scaffolding at the base of the chimney so that the customer can arrange for the repair work – such as rendering, repointing or rebuilding – to be done without any dangerous stretching or over-reaching occurring. Our access lifts always have edge protection handrails incorporated wherever a risk of falling is identified and only a qualified scaffolder installs and ties the ladder to be used on the chimney scaffold.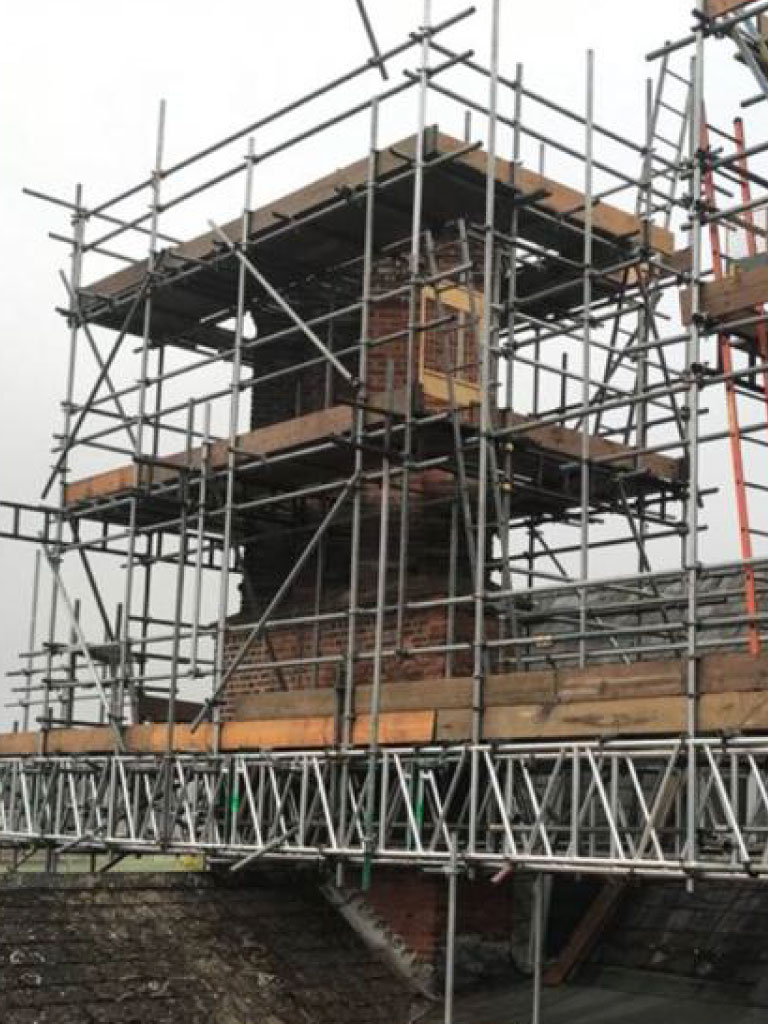 Chimney Access, Hertfordshire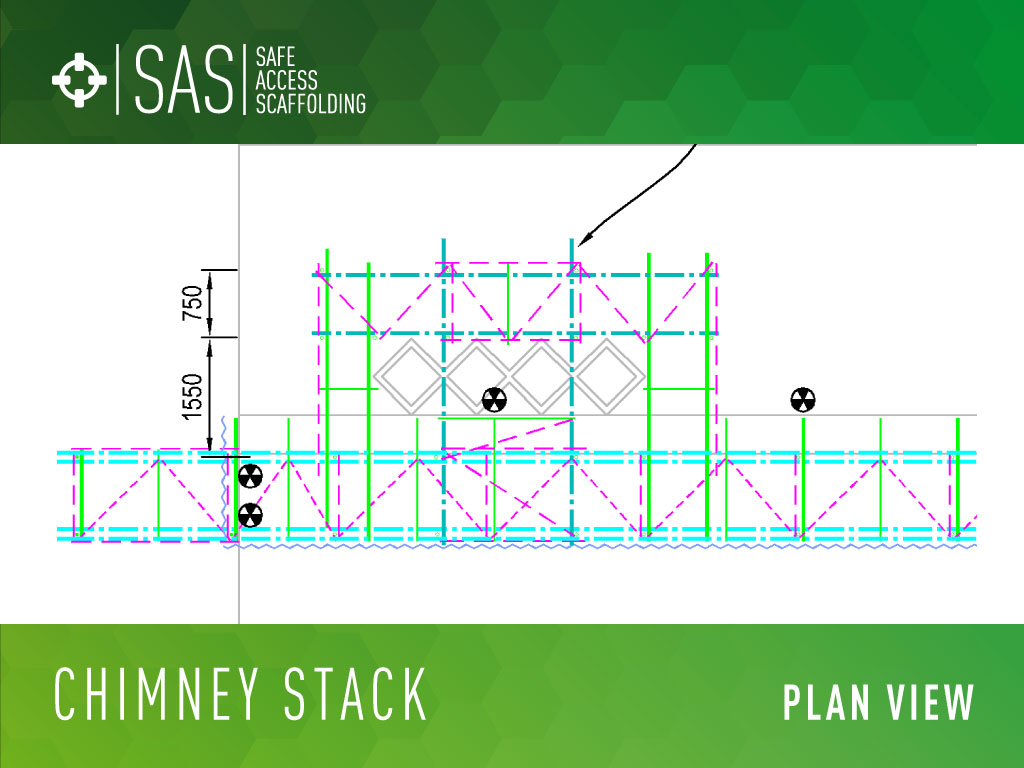 What is a Chimney Stack?
A chimney stack that is a little trickier to access is one that is located on the ridge line of the roof – the highest point on a property. For this, we need to build the same type of scaffold towers but include more scaffold lifts so that the chimney can be reached. Generally, our approach is to set the front of the scaffold a few tiles down from the base of the chimney stack in case there is a need to repair or replace them. When the top level is in place, we place another platform hung down the other side of the roof, complete with scaffolding tubes. This creates a saddle structure that allows for a working area on the other side of the roof to be established. With this, we provide a convenient and safe way for builders to step over the ridge and work on all sides of the chimney stack.
Larger chimneys in this position will probably need a further set of lift heights until they reach the top of the stack or the entire working area is covered. It's essential that the people undertaking the repairs have the confidence to move around the chimney and are able to bring materials and equipment securely from ground to roof. We are dedicated to meeting those requirements by offering a safe working environment and a chimney scaffold framework that facilitates efficient working.
Safe Access Scaffolding & Protecting the Public
Safe Access Scaffolding specialises in providing safe working at height systems and robust chimney scaffolding hire services in a wide range of environments. We have operated at schools, factories and homes in the following areas;
What can Chimney Stacks be used for?
Chimney scaffolding can also be used to install and renew internal flues used for gas or coal fires. In this case, we build a structure to one side of the chimney stack, with the top working lift set around 500mm (20 inches) down from the top of the chimney stack. This allows the heating engineer to drop a metal flue or piping down the chimney quickly and easily.
Where the new flue is too big and heavy, we can install a lifting gantry 2 metres (6 feet 6 inches) above the chimney top to minimise manual handling risks. This can also be combined with a scaffold rolling beam to hoist the flue from ground to roof and manoeuvre it to the required position that will allow it to be lowered into place.
We don't just deliver this type of sophisticated solution on domestic properties. We also have a wealth of experience in building structures to accommodate the repair or cleaning of industrial chimneys.
We are here to help!
Call our national hire desk on
0333 1234 500
Or drop us an email at info@sascaffolding.com
Free Chimney Stack Quote